Queen Pageant
Monday, June 26th | 7:00 PM
Nicole McNary, Master of Ceremonies | WGCY will broadcast during the Queen Pageant
Miss Ford County Fair 2016 Audrey Bloomquist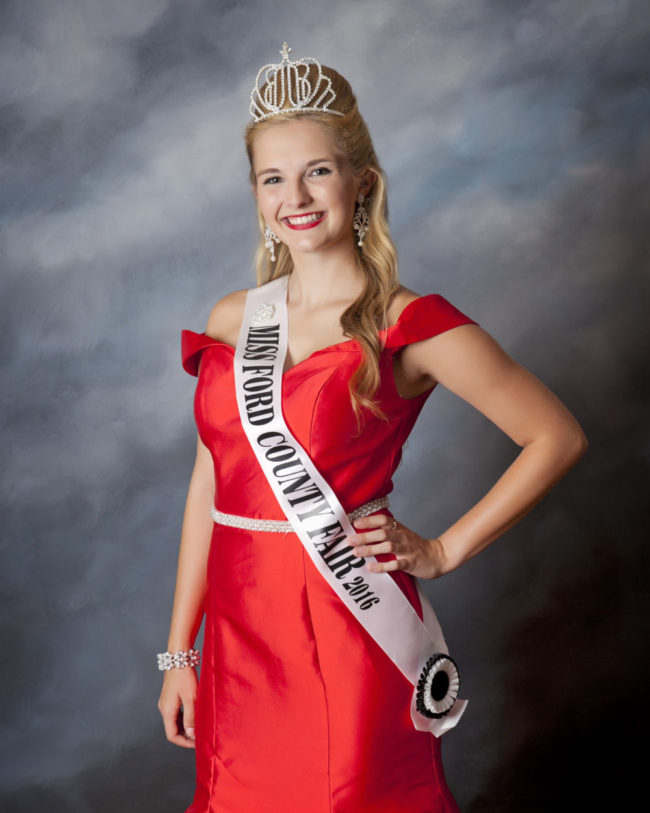 As a young girl, my main role model was my older sister Ellie. I wanted to do everything she did. She inspired me to play basketball, run cross country and track, and play in the band. I wanted to be just like her. When she was crowned Miss Ford County Fair Queen 2011, I knew this was something I wanted to do too! In preparing for the pageant, I looked to her for advice and guidance.  When I was crowned the 2016 Miss Ford County Fair Queen, I knew I couldn't have done it without her.  We were now queen sisters.
        Fair week was incredible! From meeting so many young people in agriculture, to learning more about livestock, I loved every minute of it. Despite the tiresome days, I always looked forward to see what adventures and activities the next day would hold.  I loved the whole week at the Ford County Fair and if I could do it over again, I most certainly would! An additional highlight was having my big sister Ellie as my chaperone for a couple of the days. Fair week was the best experience I could have possibly had.
        Representing Ford County at the state competition was an experience all of its own. I met so many wonderful girls in my time in Springfield and learned so many things preparing for and competing at state. I learned how to walk with elegance, hold my composure, and speak eloquently. Every time I was onstage, I would look into the crowd and see my biggest supporter and my biggest inspiration, Ellie. I knew she was proud of me, and that meant more than any award I could have won. Competing at state and having the opportunity to represent Ford County was an honor.
        It is bittersweet for me to pass down my crown, but I know that whoever will be crowned will hold the title with grace and pride. Being queen has been one of the best things to happen to me. It made me step out of my comfort zone, approach others, and have an appreciation for all of the past queens who have done all of the duties that I have completed. I will always be Miss Ford County Fair Queen 2016.
Interested in becoming Miss Ford County 2017?